2020 marked a challenge for all of us. Amid all the changes, the pandemic did not stop us from transforming lives, one wish at a time.
Thank you for supporting us and believing in our mission. Together, let's keep on sharing hope, strength and joy to our wish kids, wish families and each other.
STAY UP TO DATE!
Read about our current wish grants, fundraisers, and more!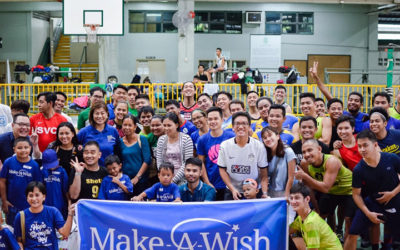 The legacy of Spike for Hope founder Teejay Cruz lives on as his loved-ones continue what he has started – granting wishes of children with critical illnesses through playing volleyball.  In 2016, Teejay co-organized the first-ever volleyball tournament to help raise...
read more
Watch more videos at the Make-A-Wish Philippines channel on YouTube
#IbalikAngLigaya
Ano nga ba ang nagagawa ng LIGAYA?
FOLLOW US ON SOCIAL MEDIA:
Facebook: Make-A-Wish Philippines
Instagram: @makeawishphilippines
Twitter: @makeawishph
LinkedIn: Make-A-Wish Philippines
LIGAYA Script by: Nick Sarmenta Tejedor
Editing by: Danimei Everett
Photos and videos by: Make-A-Wish PH and Jerard Afable
Wish Stories: "I Wish To Meet Alyssa Valdez"
"Every wish is very special because it gives joy and it gives hope." – Wish Kid Rose Ann, 17 with germ cell tumor We're so inspired and happy to know that Rose Ann is now a cancer survivor! Watch this video testimonial about her wish-come-true ✨