Even in the middle of a pandemic, Adel Torres continues to pursue his passion for running to stay healthy while advocating for causes he believes in, through Run For Wishes.
Run For Wishes is a virtual run hosted by Make-A-Wish Philippines in partnership with Takbo.ph to raise funds for children with critical illnesses. Adel, a runner and overall health buff, is the first to become an individual fundraiser through Run For Wishes. In 2020, he joined two virtual marathons – New York and London – to help wishes come true.
In a heroic move, Adel set a seemingly daunting goal and was able to achieve his P125,000 target – enough to grant at least ten wishes. His donors included friends, colleagues, and even strangers. "I was surprised that even strangers were donating after seeing my posts online," Adel shared. His fundraising campaign was also supported by AXA Philippines, where Adel works. The company has been a charitable partner of the foundation since 2017.
The marathoner started running over 20 years ago when he adopted a lifestyle change after being diagnosed with hypertension. Adel joined his first race at 52. Over the years, he grew to become a champion in marathons and aquathlons. Through his beloved sport, Adel has been able to raise donations for different NGOs.
From his experiences in the insurance industry and dealing with sickness in the family, Adel recognizes how having a life-threatening medical condition can be a financial and emotional burden. He was particularly drawn to the mission of Make-A-Wish Philippines, understanding that a wish gives hope, strength, and joy not only to the child but also to the family and community.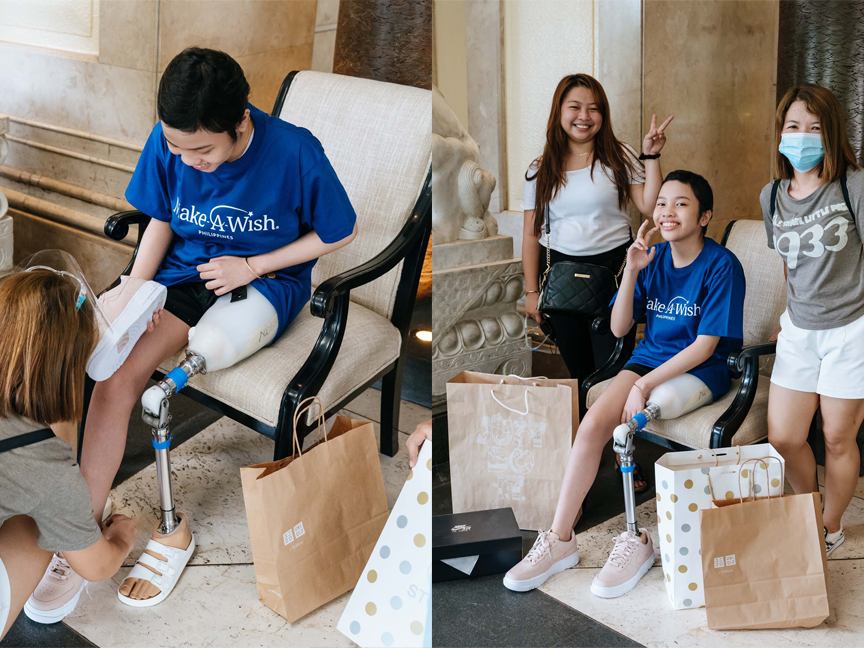 13-year-old Ally is one of the wish kids whose wish was granted thanks to Adel and his Run For Wishes campaign. Ally, diagnosed with osteosarcoma, wished for a pair of Nike sneakers that she could wear with a prosthetic leg.
Before her amputation surgery last year, Ally spent her free days street dancing with friends. With a new leg and cool kicks funded by Adel's generous project, Ally hopes to get back into the groove.
Advocates like Adel help promote awareness and encourage charity for the nonprofit organization. Praised for his achievement, the humble hero said, "I am just a messenger here. I realized that it's not that hard to raise funds for a good cause."
Adel trains for marathons "one step at a time" without giving up. This is also how he takes on other challenges in life. Hoping for health and resilience for wish kids and their families, Adel encouraged, "pray, be strong, and believe in miracles."
—
The Make-A-Wish Philippines community is full of generous heroes who are passionate about making a difference in the lives of wish kids. Join us as we work to grant the wishes of Filipino children with critical illnesses and create hope today.