"Why is cancer?"
Far from sitting back and letting her leukemia take over, nine-year old Dani sets off on a whimsical quest to find her hair and figure out the answer to the question, "Why is cancer?".
Together with her best friend and guardian angel, they go on a journey with lightsaber duels, game shows, space ships and all the silly games in between, showing that a child's imagination and fighting spirit have no bounds.
"Dani Girl: A Musical About Hope" by Michael Kooman and Christopher Dimond celebrates the childlike innocence, wonder, imagination, courage and hope that people often forget and lose as full-fledged adults.
The play first premiered in Manila in 2014 as the maiden production of The Sandbox Collective. The show received wide acclaim from audiences and critics. Stage actress Lea Salonga called it "perfection" in its simplicity and execution, while METRO Magazine praised it as a play that "refreshes the mind and soul and touches your heart and spirit."
On the musical's restaging this year, Make-A-Wish Philippines seized the opportunity to partner with The Sandbox Collective. "What Dani Girl offers the audience is what we strive to give whenever we make the wish of a child with a critical illness come true. Our mission is to transform children's lives with hope in those moments they need it the most," said Ana Chua, president of Make-A-Wish Philippines.
The show on September 1, 8:00 PM, will be an avenue for the foundation to raise funds to make more wishes come true for Filipino children battling not just with cancer but with other life-threatening conditions such as blood disorders, cardiac problems, kidney neuropathies, and more.
'We may or may not know the answer to 'Why is cancer?' or 'Why these other illnesses?" but we do know the answer to 'Why is hope?'… Hope improves the lives of our wish kids, volunteers, partners and staff. Hope transforms lives, one wish at a time. May we keep on sharing hope," added Chua.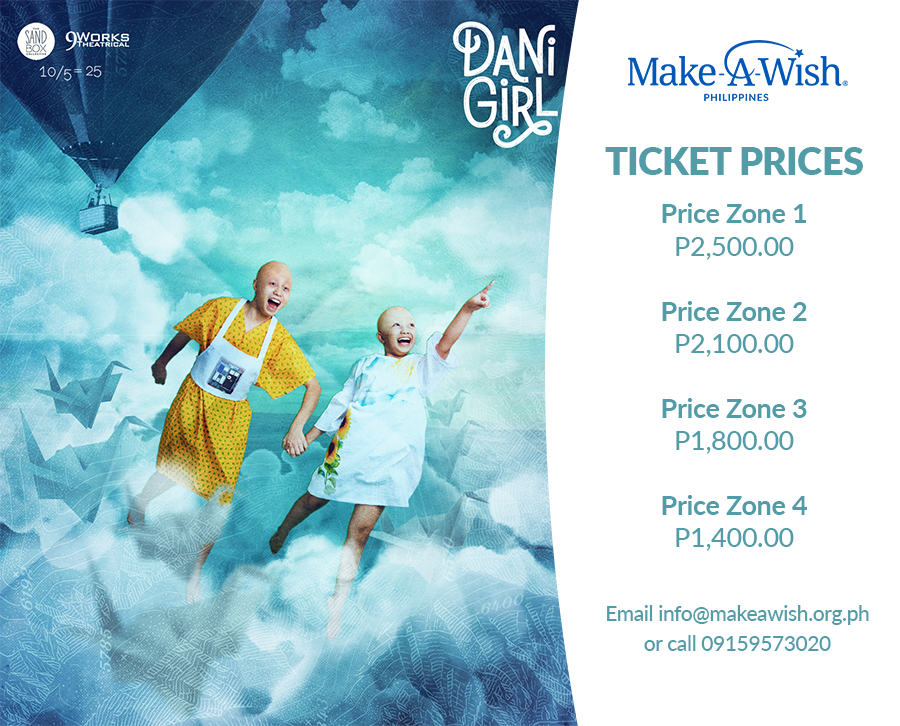 "Dani Girl: A Musical about Hope" on September 1, 8:00 PM, will be co-sponsored by RBA-Aljay, Jollibee, and PBA, with WhenInManila.com as media partner. For ticket reservations, please contact 09159573020 / info@makeawish.org.ph. Tickets are also available through www.ticketworld.com.ph.