Wellness and Wishes, a fundraising virtual wellbeing clinic for the benefit of Make-A-Wish Philippines, will be launched on October 10, coinciding with the celebration of World Mental Health Day.
Presented by Empowerment Life Coaching, nine volunteer life coaches and energy healers are coming together to support a cause they wholeheartedly believe in – that of giving hope, strength, and joy to children with critical illnesses. 100% of the proceeds from all Wellness and Wishes sessions held from October 10 to 31 will be donated to help grant the wishes of children beneficiaries of the foundation.
Aleli Carissa Gimena, the passionate founder of Empowerment Life Coaching, chose to partner with Make-A-Wish as she felt that the organization's mission aligned with her purpose of nurturing others to have more faith, trust, and joy. Joining Aleli are other coaching and healing practitioners Faye de Leon, Nanette Punzalan, Anita Patel, Samsam Santiago, Mage Ona, Cai Lerma, Bernice Mendoza, and Abi Arcangel.
"I want to make wishes come true because I believe in the power and magic that genuine joy brings. When we infuse joy into our lives, we get to connect and experience a spark of God/the Divine along with the delight, contentment, and enrichment it brings," shares Faye, one of the volunteer healers.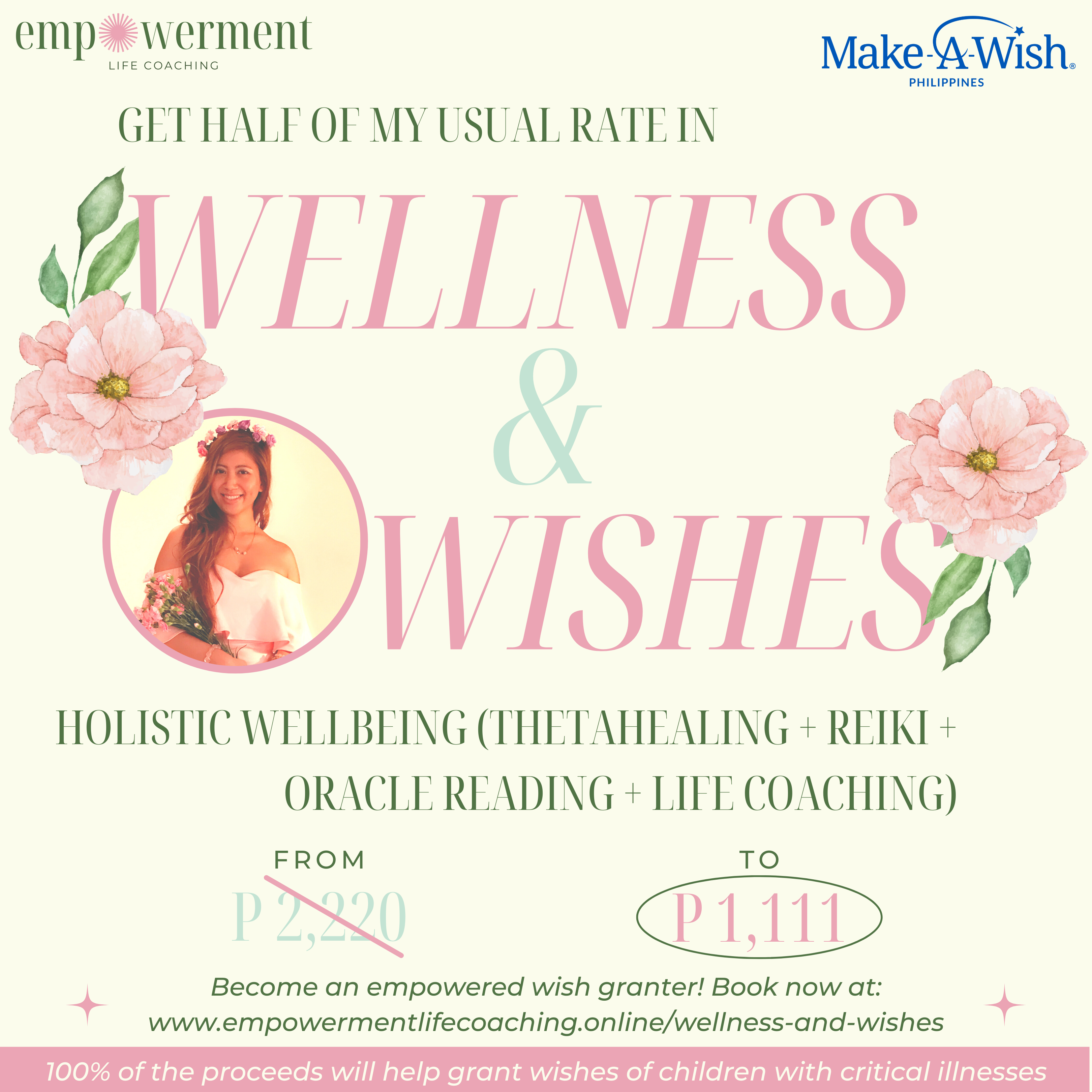 Make-A-Wish welcomes the first-of-its-kind fundraising campaign: "coaches and healers know how thoughts and emotions affect health and disease. We are grateful to have partners who believe how a wish-come-true can truly uplift and empower the kids as they battle with life-threatening medical conditions," says Abi, Make-A-Wish Philippines Board President and a Theta Healing practitioner.
A wish is more than a one-time gift. It is truly a life-changing moment that gives a child the opportunity to look outside of their illness and a joyous memory that they can always look back on. An impact study done by Make-A-Wish International revealed that wishes positively affected the physiological and psychological responses of the kids. "If doctors can give medicines, Make-A-Wish gives the magic. It is possible that wishing enabled these children to dream about what seemed unobtainable [and] out of reach, and thus created an experience of achieving the impossible. And if the impossible can happen once, children can believe in their ability to live with or even overcome their illnesses," the research stated.
The volunteer coaches and healers deeply value making a difference in people's lives and spreading acts of kindness. "These are ripples of healing that will ultimately heal the world," shares Aleli.
The Wellness and Wishes program launch on October 10 – Sunday, 3:00 to 5:00 p.m. – will feature an overview of the various modalities, including what to expect in the sessions and the benefits of healing. Register for free and win raffle prizes here.
Learn about life coaching, Reiki, Theta Healing, Angel Healing, and Oracle Reading. Schedule your session from October 10 to 31 by checking out the Empowerment Life Coaching website. Heal yourself and help others heal. Be an empowered wish-granter today!
We at Make-A-Wish thank each wish partner who has supported us in transforming the lives of Filipino children with critical illnesses. We succeed in our mission with the help of those who help raise funds and donate to the cause of the organization.
Interested to become a wish partner? Send us a message at partnerships@wishes.ph and start creating hope for wish kids today.