World Wish Day 2021 is fast approaching! On April 29, the global Make-A-Wish community will be celebrating it's 41st year since the first wish. One of the ways you can show your support and celebrate with us is by joining the "I CREATE HOPE" social media campaign.
Make-A-Wish Philippines has collaborated with Passionation Philippines – a leading social media and influencer marketing platform in the country – to spread the message that everyday is a new day to create hope for ourselves and for others. See below for the mechanics and sample posts:
MECHANICS

1. Post a before and after photo of you doing your passion. Posts should be done on INSTAGRAM but feel free to cross-post to Facebook as well. Some examples for this can be a photo of your first drawing vs. your artworks now; a picture of your first makeup look / OOTD vs. your style now, etc.
2. For the caption, briefly share what the two photos are all about – highlighting how you chose to create hope for yourself to reach your own dreams. Feel free to also tag the people who supported you and/or your idols and inspiration in pursuing your passion. Then challenge at least 3 people and invite them to create the same hope for wish kids by challenging them to post their own before and after passion progress photos to help spread awareness and grant more wishes of kids with critical illnesses.
3. Use the hashtags #LiveYourPassion #CreateHope #WorldWishDay #MakeAWishPh #PassionationPH
4. Tag @passionation.ph and @makeawishphilippines
5. Add http://bit.ly/PassionxWishesDonate to your link in bio or mention it in your post from April 22 to April 30, 2021.
SAMPLE POST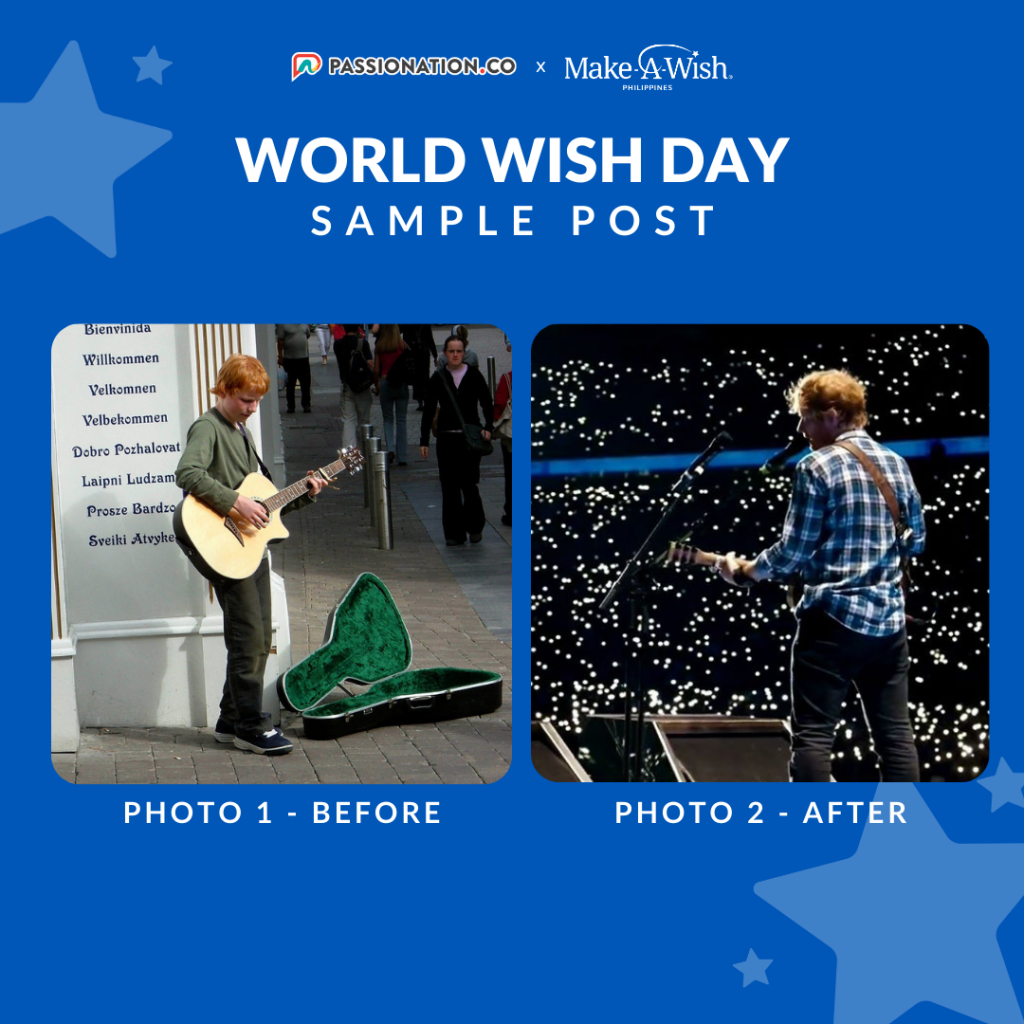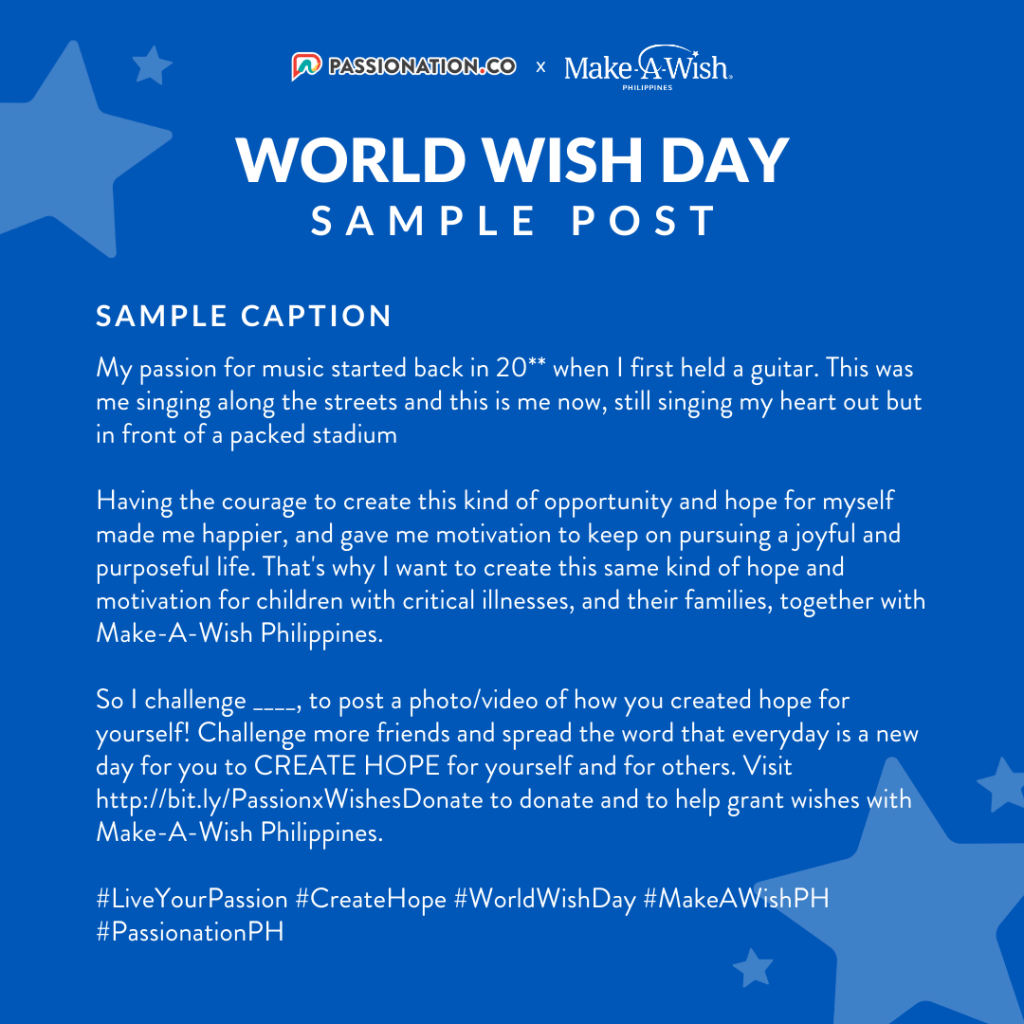 SAMPLE CAPTION
My passion for music started back in 20** when I first held a guitar. This was me singing along the streets and this is me now, still singing my heart out but in front of a packed stadium Having the courage to create this kind of opportunity and hope for myself made me happier, and gave me motivation to keep on pursuing a joyful and purposeful life.
That's why I want to create this same kind of hope and motivation for children with critical illnesses, and their families, together with Make-A-Wish Philippines. So I challenge ____, to post a photo/video of how you created hope for yourself! Challenge more friends and spread the word that everyday is a new day for you to CREATE HOPE for yourself and for others.
Visit http://bit.ly/PassionxWishesDonate to donate and to help grant wishes with Make-A-Wish Philippines. #LiveYourPassion #CreateHope #WorldWishDay #MakeAWishPH #PassionationPH
SAMPLE POST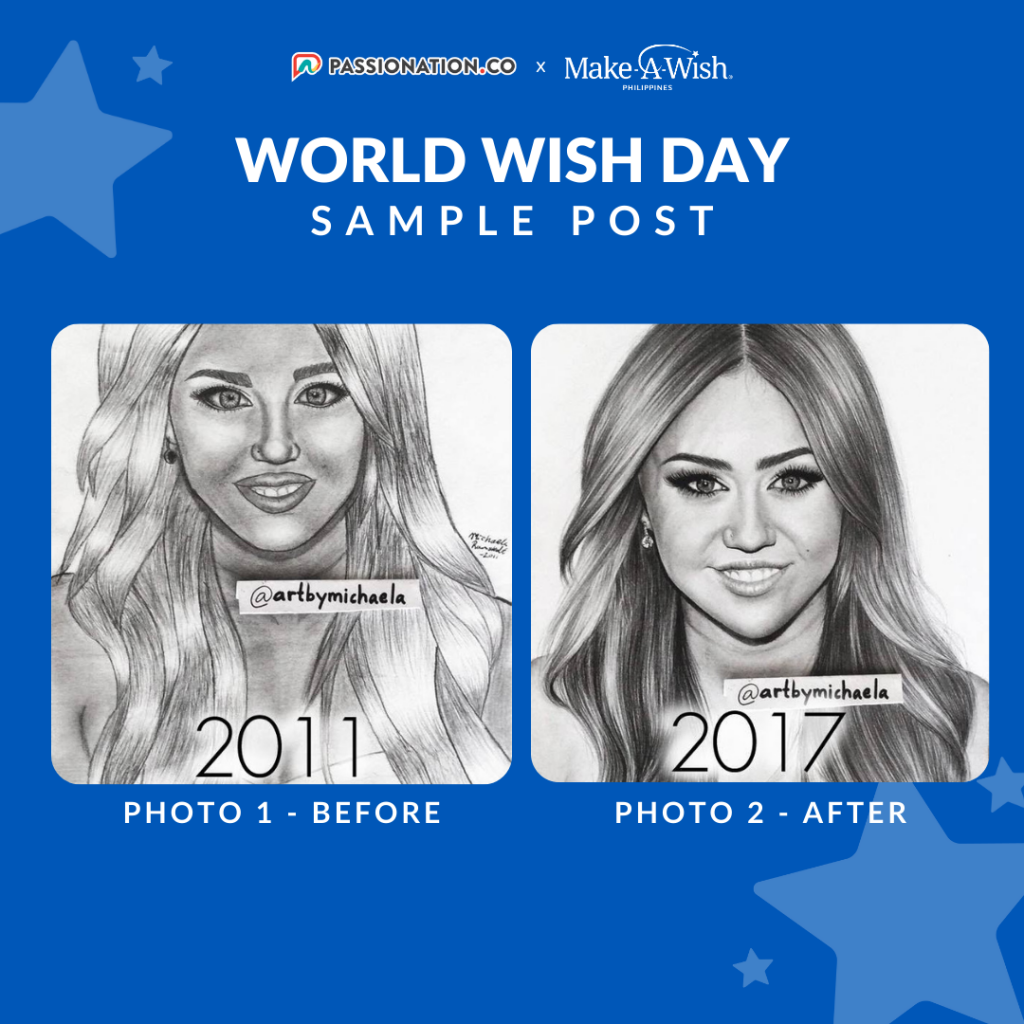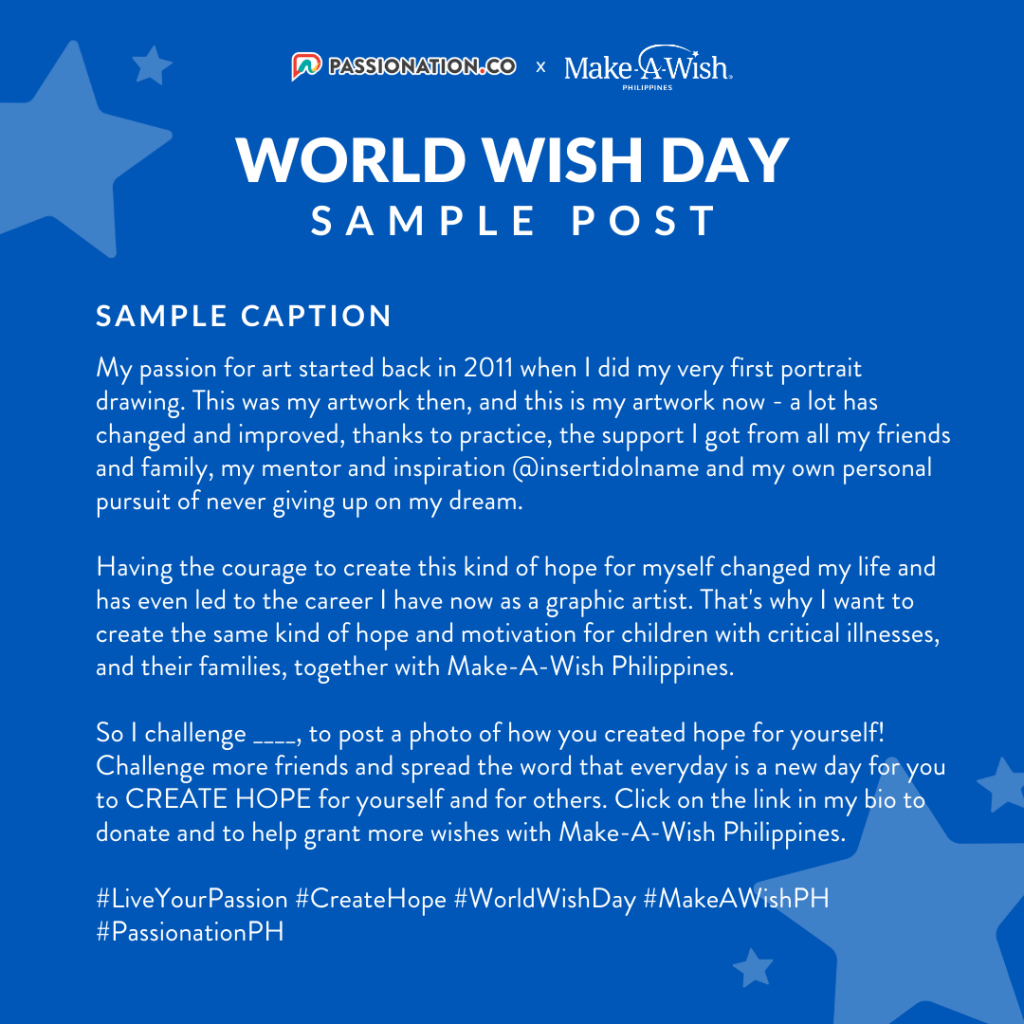 We're excited to see all your stories of hope! Join now and help us spread the word about the power of hope!
FIND US ON SOCIAL MEDIA:
PASSIONATION PH:
Instagram: www.instagram.com/passionation.ph
MAKE-A-WISH PHILIPPINES
Facebook: @makeawishphilippines
Instagram: @makeawishphilippines
Twitter: @makeawishph
YouTube: https://www.youtube.com/makeawishphilippines
LinkedIn: linkedin.com/company/makeawishphilippines